We are so excited to announce  "Nora" whelped seven beautiful  puppies ! 
Whelped November 12, 2023
Sire: AKC CH Boxwood Brisbane "Bris"  x Dam: AKC CH Borealis Viking Windstorm "Nora"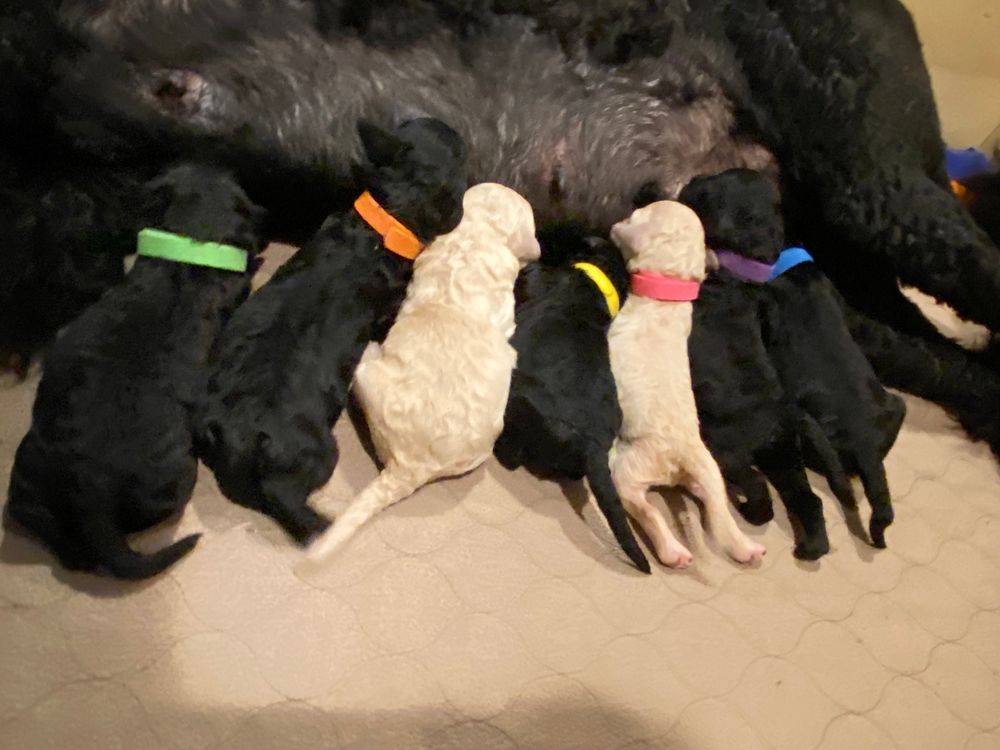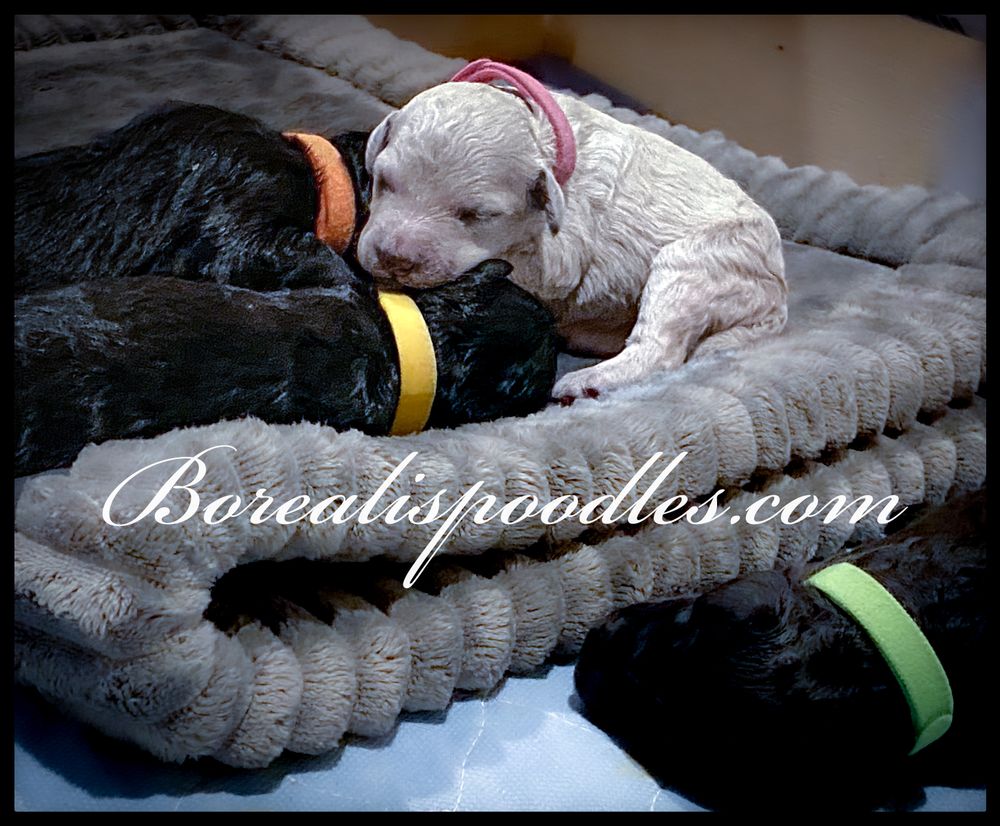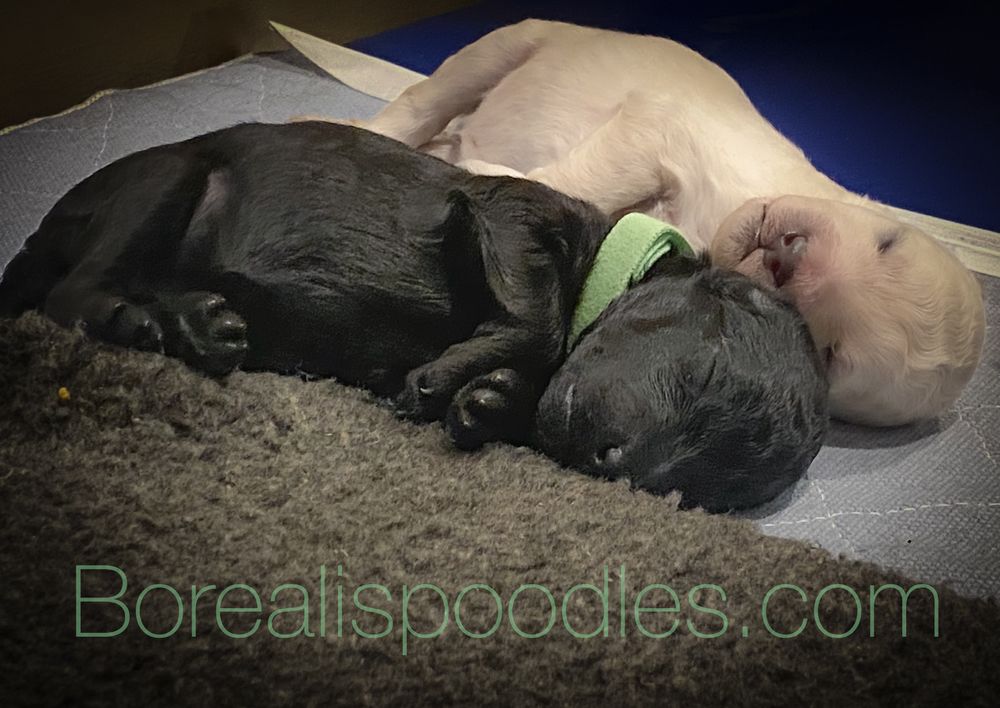 Welcome to Borealis Poodles. My name is Laila Bjerk Rumsey. I am from the northern artic circle in Norway where the northern lights glide across the sky and paint the Aurora Borealis.
 My first AKC show poodle was named "Bjorn"  AKC Safari Orion, sired by CH Safari's Aesthete and CH Safari's Mirage. I fell in love with the standard poodle because of Bjørn's intelligence, personality and strength of character, physical strength and intelligence that I decided to pursue my interests and introduced him to agility,  conformation and grooming classes. 
 My first AKC titled Standard Poodle was AKC Champion Pinafore Sonja Gliding on Ice. She  was brought to AKC Championship by one of the top handlers in the country, Ann Rairigh of Litilann's Poodles in Kentucky.  She inspired me to continue my breeding program by giving me an opportunity to breed with the magnificent Jaset's, Satisfaction «London» with my lovely  AKC Champion Pinafore Sonja Gliding on Ice.
 
 I first became interested in breeding and showing my AKC dogs nearly twenty years ago with my West Highland White Terrier,  "AKC Champion Lair O'Lyon "Lillehammer".  Which was brought to AKC Championship by breeder/handler and now Judge Malinda O'Lyon.  Once Lillehammer retired from show she whelped two litters of healthy puppies. She traveled throughout Europe with me and was featured in several full  two page fashion magazines in Oslo, Norway. She lived to be a healthy 16 years old. 
In 2017 I was fortunate enough to breed Sonja AKC CH Pinafore Gliding on Ice to "London" Platinum GCH Jaset's, Satisfaction producing three beautiful black females. One of them I held back as my future foundation bitch "Nadia"  AKC CH Borealis "From London with Love" . She was brought to AKC championship as a puppy by Ann Rairigh in 2018. 
In 2019 once again I bred my "Sonja" to "London" Jaset's, Satisfaction. She produced eight beautiful healthy strong puppies whelped in May 7, 2019. 
She produced four beautiful puppies from her first  litter, sired  by AKC AM CH Pinafore Skybreeze Rider On The Storm, "Reese". The pick of the litter "Gus", a white male , was picked by a professional trainer/owner/handler/groomer in Munich, Germany. He has been entered into shows and has been winning numerous titles throughout Europe. The owner was so excited by my litter she acquired another male Standard Poodle, named "Borealis Light my Fire". He has gone on to winning titles in Europe.
The Sire: MBIS/MBISS/GRCH Jaset's, Satisfaction, "London"  
"is a winner of 100 All Breed BISs, PCA National Best of Breed winner, Eukanuba National BIS winner, and Eukanuba World Challenge Winner".  "London's career with handler Ann Rairigh has been an exciting ride with fantastic wins at the country's biggest events. Leading up to PCA 2011, London had won 25 All Breed Best in Shows (including wins at the prestigious International Kennel Club in Chicago and Louisville Kennel Club cluster). London was chosen for the highest honor a poodle could ask for, winning Best of Variety and Best of Breed at the Poodle Club of America National Specialty.  Since PCA, London's record has climbed to over 235 Group 1sts and 89 All Breed Best in Shows" (refer to Jasets.com) 
Our Dam: AKC AM CH Pinafore Sonja Gliding on Ice, "Sonja".
"Sonja" is an American AKC Champion from the well-known Pinafore line. During her conformation career she entered onto the show floor as though she was gliding on ice. Her poise and magnificent gate has been delightful to watch throughout her career. After fulfilling her AKC championship she has excelled as a mother to all her puppies and her careful attention has seen to it that they grow healthy, stable and strong. 
I am always available to answer any and all questions you may have regarding our Borealis Poodles. I am very dedicated and extremely careful with whom I place  my pet/show puppies with not only because it is of the utmost importance that the new owners lifestyle and living environment provide the best nutritional and physiological conditions for the puppies welfare but also because they all have a special place in my heart. All pet puppies are assigned AKC  Limited Registration. 
 
2020 NATIONAL DOG SHOW: All our champions have been handles by the best, Ann Rairigh. She won the Non-Sporting Group in the 2020 National Dog Show. (Press on the button)
AKC AM CH Pinafore Sonja Gliding on Ice, handler Ann Rairigh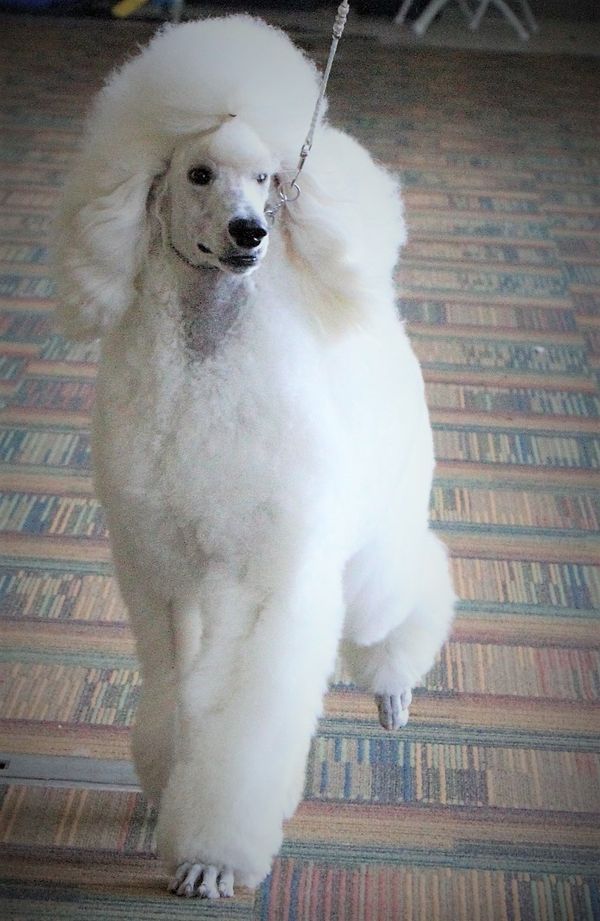 Platinum Jasets, Satisfaction "London" handled by Ann Rairigh