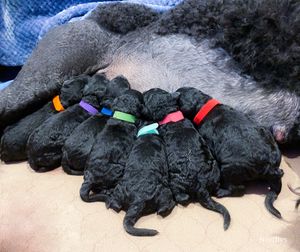 We are pleased to announce the arrival of Nadia's seven beautiful healthy puppies February 9. 2022
Dam: AKC  Champion Borealis From London with Love "Nadia" 
Sire: AKC Champion Boxwood Brisbane "Bris"
These two beautiful healthy, strong Standard Poodles are the parents of our upcoming puppies arriving Valentines weekend 2022. 
They are health tested with the OFA.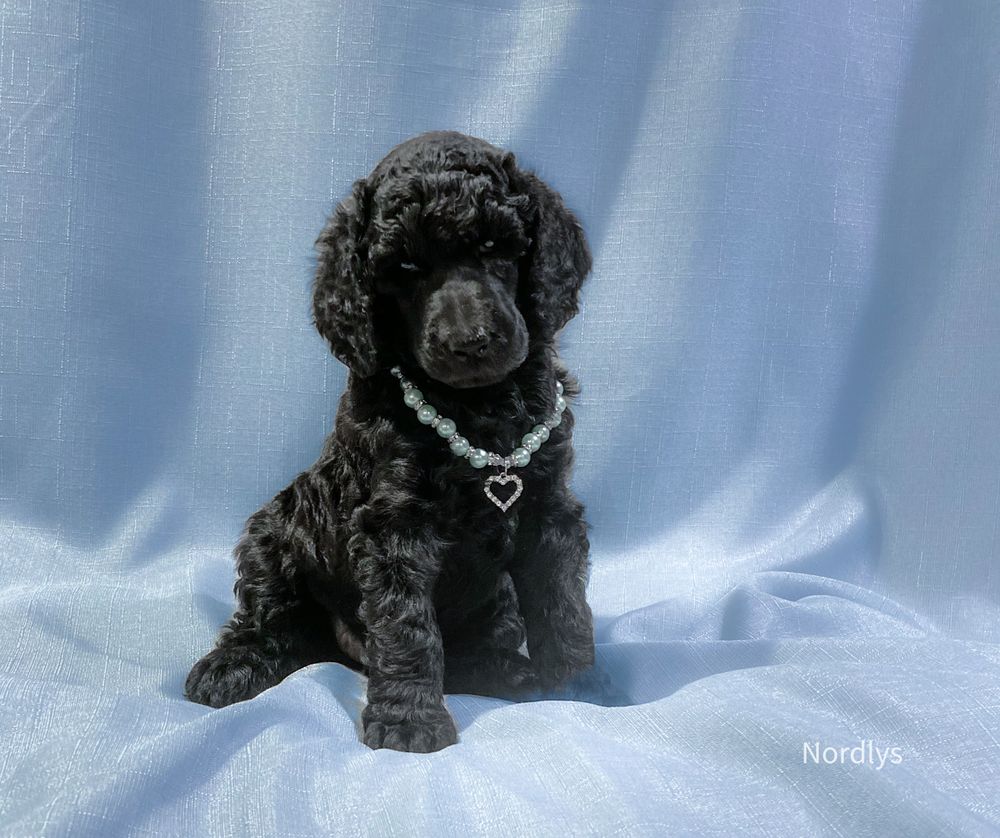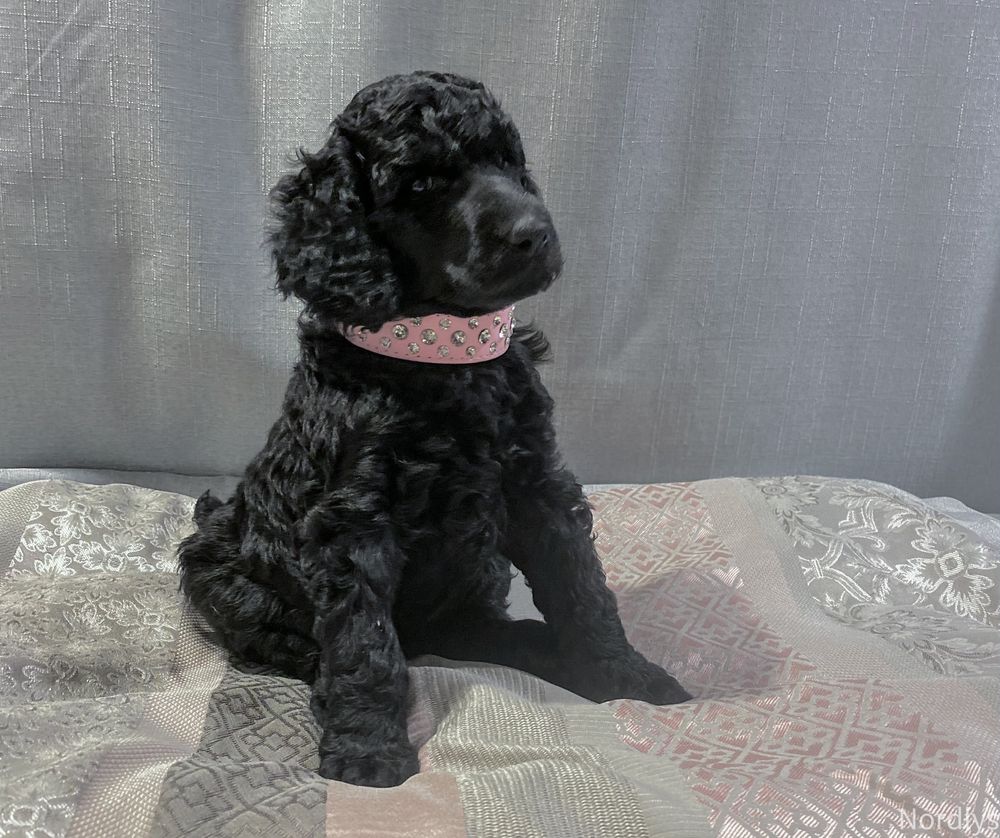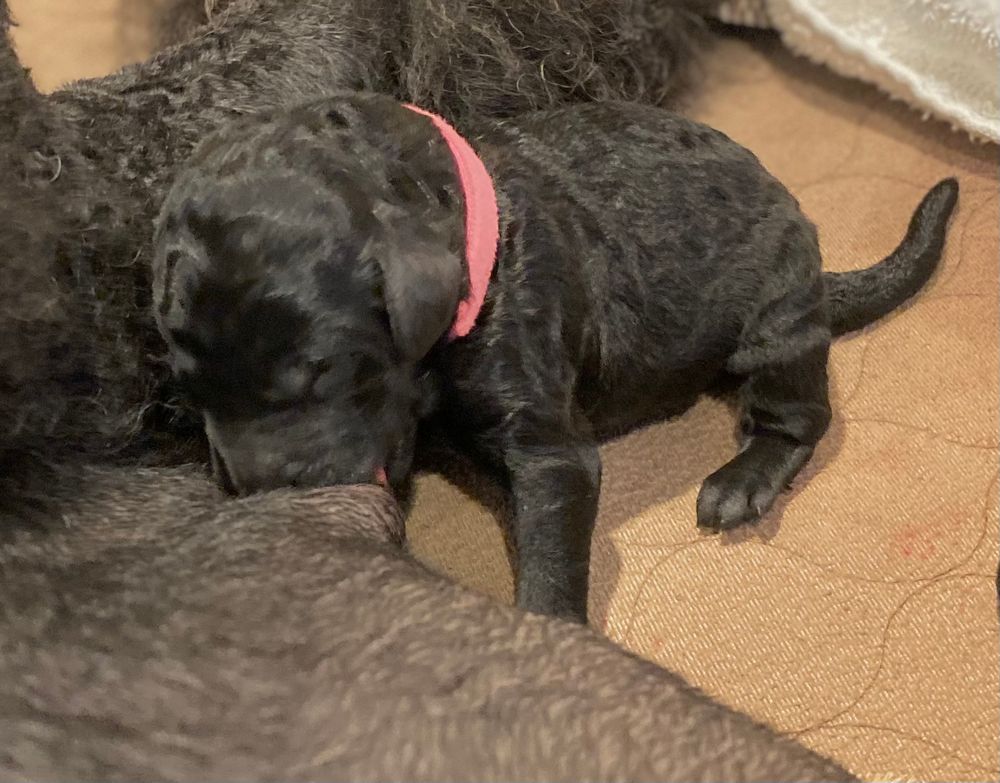 Borealis Poodles is excited  that AKC Champion Boxwood Brisbane, calling name "Brisbane" is the sire  of our upcoming 2022 litter with AKC Champion Borealis From London with Love. Bris is the Brad Pitt of standard poodles. He is muscular, weights about 67lbs and has a "draw you in" Charisma with a slight smile at the corner of his mouth as if he knows it. Athletic and charming, he fell in love with Nadia.
      Nadia has a quiet dignity, she is reserved during this maternal period but she usually has a playful disposition bouncing on her toes like a Champagne girl and in quiet times will look at you with a dreamy soulful glance like  Audrey Hepburn in Breakfast at Tiffanys, allowing you to enter sphere only if you impress her, a characteristic which shows her intelligence. 
      In 2019 Brisbane was the sire of nine beautiful healthy Borealis puppies, the mother was our AKC Borealis Champion From London with Love, "Nadia".  All puppies found loving homes and have grown up healthy and adoring poodles. When fully grown the boys will be over 60lbs and the girls from 45lbs to 50lbs. Our Female who is my "pick of the litter" from this litter went on to be a show dog and won Best in Variety against old and young poodles. 
      As in the previous litter, these puppies will reflect healthy balanced temperaments,  features carried down the line from their grandfather  "London"  who with  his strong male structure  exuded assertive  masculinity and our dam Nadia's refined feminine poise, features qualifying both champions stable disposition. 
        Borealis "Nadia" CH From London with Love's  father,  Platinum GCH Jaset's, Satisfaction known as "London" has won over 100 championships in the United States including top prize at the Eukanuba competition, an award given once a year to the top champion in the United States and is comparable to competitions such as the Westminster dog show. "Nadia" our dam is a descendant of the Pinafore line which has produced exceptional standard poodles have been showing and breeding for over 50 years throughout the United States and Europe. 
         We are very proud to have these future  puppies which continue and embody the best characteristics of both champions, AKC CH Boxwood Brisbane and AKC CH From London with Love "Nadia". 
         Borealis endeavors to match Nadia, as dam to the standard poodle line, to a sire with exceptional traits in order to maintain sound psychological and physical attributes such as a well adjusted  temperament and good skeletal structure, enabling balanced coordination and movement. 
          We at Borealis periodically visit and seek the advice from licensed reproductive veterinarians.   We breed for attaining a balanced temperament, sustainable health benefits such as a good mouth, well set teeth, eyes that pass CERF tests and excellent to good hips. Breeding candidates undergo an array of DNA health tests. These procedures  and characteristics are the basic elements we strive to achieve in order to maintain the integrity and development of the Borealis line.  In so doing  we also make sure that the parents of these puppies are OFA health tested.  
       Borealis Poodles concentrates itself on a 24/7 care approach to establishing well-rounded healthy happy puppies.  We feed a RAW diet for the best nutrition value to generate strong muscle tone, bone structure and healthy temperament.  We introduce dry food at a later stage in their development so that our puppies can easily transition once they have left to their new home. 
       We spend many hours handling  our puppies at every stage of their development as they grow up in our home. Puppies are never left alone. We see to it that they are socialized at an early age by our close family. No visitors are allowed in our home until their first shots. 
       Borealis endeavors to  spend considerable time  in studying the development of each individual puppy's personality, introducing them to new toys including training in a puppy gym that gives them every chance to develop their mental curiosity  and dexterity skills. 
       Potty training and guidance  begins at about three weeks old, as soon as they can waddle. By the time the puppies go to their new homes they have developed an instinctive understanding of potting on their turf indoors and outdoors, training them in a manner so that they enjoy their crates,  leash training and playing tug. 
Sire: AKC CH Boxwood Brisbane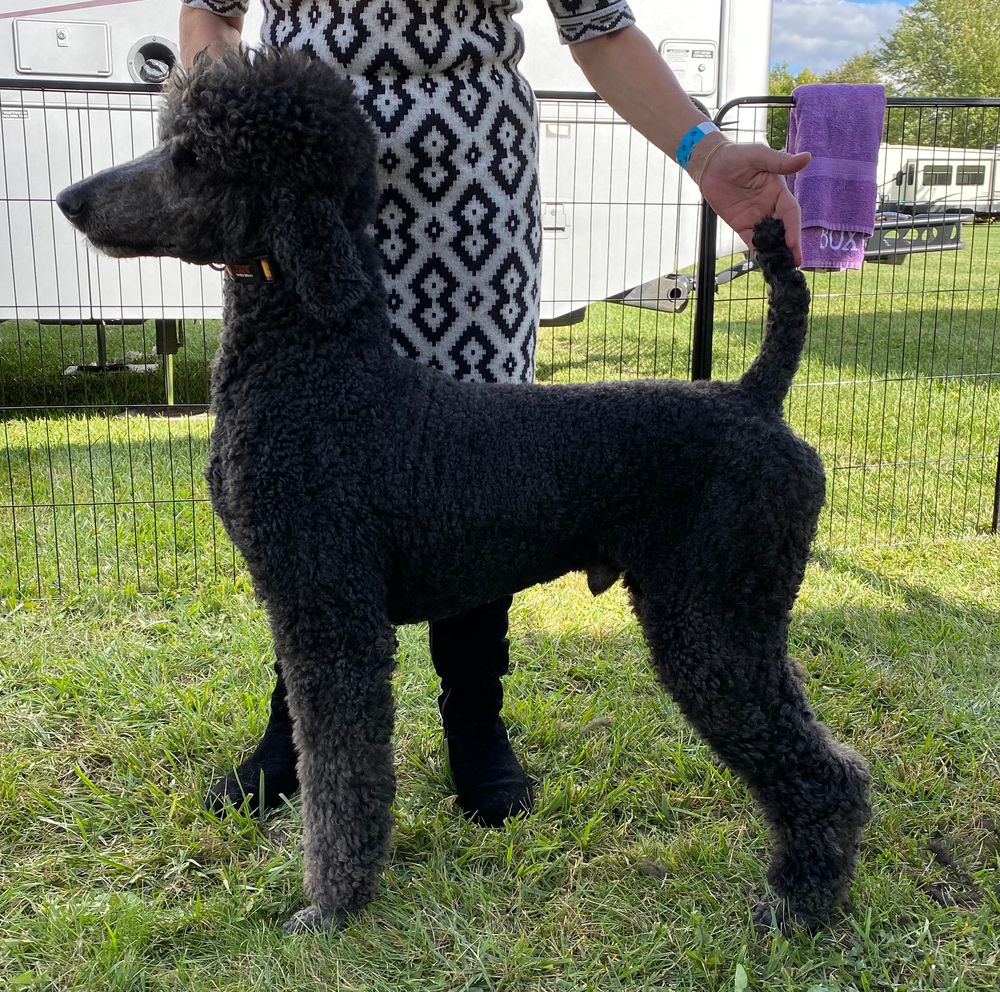 AKC CH Borealis From London with Love "Nadia"